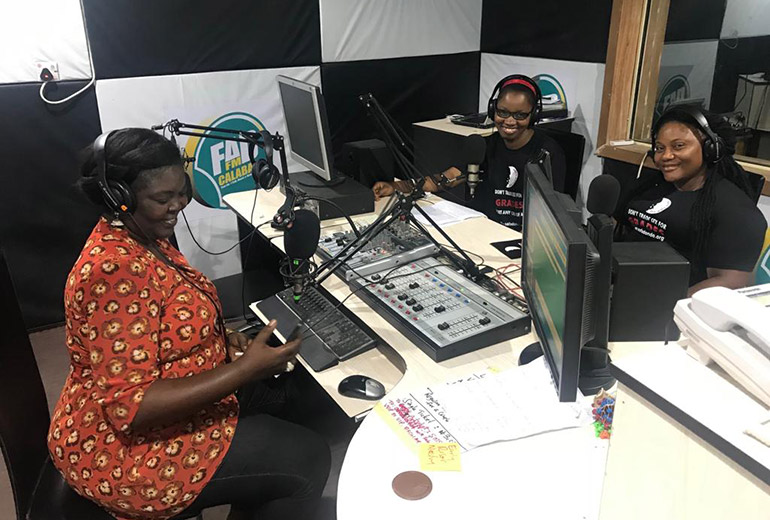 The Director of Management Information Systems Unit in Cross River University of Technology, Dr. (Mrs) Hannah Etta, has berated Lecturers for keeping quiet on the menace of "sex for marks" and "marks for sex" in tertiary institutions in Nigeria. 
She berated them last Friday, when she featured on FAD 93.1 FM radio Calabar as a guest of "Today's Woman", a weekly program of that station. 
Dr (Mrs) Etta featured on the program as a Volunteer Member of Sofadondo, a Non- Governmental Organization (NGO) that campaigns against "sex for marks" and "marks for sex".
It is expected of you to know that you have to go down with me in order to pass
She said: "The Lecturers themselves are not helping matters. Sometimes, you just make it look like it's a normal thing. 'It is expected of you to know that you have to go down with me in order to pass'. No! It is not right. It should stop. 
"There should be a change in the mindset of Lecturers, male or female. Don't be propositioning sex to students for grades. It is absolutely wrong. It shouldn't even be heard of in our tertiary institutions or wherever. 
"It has to come from within. We should stop shying away from discussing it.  If you are not the one doing it, somebody you know is doing it. So it should be discussed. The bad thing is that everybody keeps quiet and covers up".
Dr (Mrs) Etta suggested that "sex for marks" and "marks for sex" should be constant subjects of discussion among Lecturers in various fora such as Whatsapp platforms for academic staff and during departmental board meetings.
She said that "sex for marks" and "marks for sex" have adverse effects on students and on the rest of the nation. 
According to her, "the female students are becoming almost more dependent on this alternative. You won't find them in the classroom…. While lectures are going on, they are busy, maybe running around with one Senator or the other. In fact, this is campaign season, why should they be in school?
"If not that ASUU is still on strike, they would have been all over the country, running around…. Some even go as far as asking people to write exams for them. They pay people to do it. The whole system has become such as going to school is like you are doing somebody a favor. You are just going to school because it is expected of you. It is not that you are going to acquire anything for yourself to make a living for yourself.
"So the female students don't attend classes, they don't write tests, even exams. They are just like 'at the end of the day, I would go and see the Lecturer. Kpatakpata three thousand naira hotel, I would get my grade.' That's where we have degenerated to".
Dr. (Mrs) Etta enjoined students to sign up as Volunteer members of Sofadondo, stating that "the more students we have, the stronger the army to fight the menace".
Similarly, Mrs Linda Ellah, Coordinator of The Living Woman Club, a Calabar based project, blamed parents for contributing to the existence of the menace of "sex for marks" and "marks for sex". 
Mrs Ellah featured on "Today's Woman" as a Volunteer member of Sofadondo, along with Dr. (Mrs) Etta.
She said: "Parents are all over their children. Some parents go to the extent of looking for someone who can throw in paper into the exam hall for their own child to make sure that they pass that exam well. The message you are passing to that child is 'whatever it takes, make sure you pass that exam'. That child carries that message right to the university and onwards".
Mrs Ellah asked and explained: "Parents, what are we doing? It is pitiable because even the marks we are talking about, do they really show that it is an assurance for success in life? Of course not! There are a lot of stories about even dropouts who have made it in life. Grades only matter in the university. Once you step out of the university, all that matters is results. 
"In the business world, in the work place, no one would ask you, 'what did you get in Chemistry?' Who cares? It is about what you can deliver in your work".
She enjoined parents, teachers, students and everyone to change their mindsets on grades, stating that: "We have overemphasized grades within our institutions. We need to see that our institutions are preparing our children for life.  Not grades that once you drop out of the institution, it's gone. A reorientation has to be basic".
Mrs Ellah added that "sex for marks touches every family. It is touching everyone. It is not far away. The long time effects are just unspeakable. So we can't take it as a norm at all. It is not normal".
Accordingly, Dr. (Mrs) Etta and Mrs Ellah explained that Sofadondo exists to correct this anomaly.
They disclosed that the organization was formed last year and has its headquarters in Lagos as well as branches all over Nigeria.
It would be recalled that Sofadondo embarked on advocacy campaigns against "sex for marks" and "marks for sex" during the 2018 Carnival Calabar where members of the organization distributed fliers to participants and spectators at the carnival. 
In the same vein, Volunteer members of the organization in the University of Nigeria Nsukka recently featured as Guests of a phone-in program on Dream FM radio station in Enugu, to speak against the menace of "sex for marks" and "marks for sex".
Sofadondo enjoins members of the public to report cases of abuse on "sex for marks" to 07012254532, for redress.  
"Sex for marks" refers to the practice where some Lecturers demand for sex from their students in exchange for marks, while "marks for sex" refers to the practice where some students offer sex to their Lecturers in exchange for  marks.

Reported by Cornelius Ellah 
Sofadondo Volunteer, Cross River State